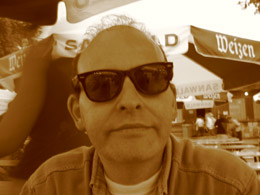 Jürgen K. Schlamp
Geboren 1957 in Mainz
Studium an der FH Darmstadt
1981 Diplom, Fachbereich Industrie-Design
1981/82 Aufbaustudium Grafikdesign
1975-82 Mitglied der Künstlergruppe "Impulse"
Ausstellungen:
Einzel- und Gruppenausstellungen in Alzey, Darmstadt, Bonn, Mainz, München, Bergen op Zoom (NL), Eindhoven (NL)
Meine Malerei hat ihren Anfang schon in der Schule im Kunstunterricht Ende der 60er Jahre genommen. Der Umgang mit einfachen Wasserfarben oder Farbkreiden hat mich begeistert, ganz im Gegensatz zu vielen meiner Mitschüler. Als Linkshänder wurde ich 1964 natürlich beim Schreiben zum Rechtshänder umerzogen, beim Zeichnen und Malen durfte und konnte ich aber mich als Linkshänder frei entfalten.
Während meines Designstudiums hat mich die Malerei immer begleitet, ob in Fachfächern oder Seminaren. Mein besonderer Dank gilt Prof. Brüning (München) für Formfindung und Konzeption und Prof. Butter (Columbus University, Ohio) für Styling und Colormanagment. Viel Inspiration erhielt ich auch bei Prof. Hauschild, der als junger Mann selbst ein Schüler war von Johannes Itten (Lehrer am Bauhaus). Unvergesslich bleiben auch meine Begegnungen mit Luigi Colani und Joseph Beuys, deren anderes Denken viel Bewegung in mein künstlerisches Leben in den 80er Jahren gebracht haben.
Berufung als Beruf ist die Voraussetzung für einen Designer. Ich bin Designer von Beruf und die Malerei ist und bleibt mein Hobby, meine Leidenschaft. Für mein künstlerisches Schaffen habe natürlich Maler, die ich als Vorbilder meiner Intension sehe. Nennen will ich Leonardo da Vinci, über den ich 1978 im Studium ein Referat über seine Bedeutung für die Kunst gehalten habe und der Maler, Designer und Visionär bis heute nichts an Faszination verloren hat.
Begeistert hat mich der leidenschaftliche Malstil von Henri de Toulouse-Lautrec, die surrealen Bildkompositionen von René Magritte und die Pop-Art Bilder von Roy Lichtenstein. 
Meine berufliche Tätigkeit als Designer findet ihr unter DESIGNWORK. 
Quelle Textlinks: wikipedia
My painting started in school at the end of the sixties. The use of simple water colors or color chalks inspired me, unlike many of my classmates. As a left-hander, I was, of course, re-educated in 1964 when writing to right-handed, while drawing and painting I was allowed to unfold and develop as a left-handed person.
During my design studies, painting always accompanied me, whether in subjects or seminars. Special thanks go to Prof. Brüning (Munich) for form finding and conception and Prof. Butter (Columbus University, Ohio) for styling and color management. I also got a lot of inspiration from Prof. Hauschild, who as a young man himself was a student of Johannes Itten (teacher at the Bauhaus). My encounters with Luigi Colani and Joseph Beuys, whose different thinking has brought much movement into my artistic life in the 80s, also remain unforgettable.
To love your profession is the prerequisite for a designer. I am a designer by profession and painting is and remains my hobby, my passion. Of course I have painters as idols for my artistic work.  I want to mention Leonardo da Vinci, about whom in 1978 I gave a lecture on his significance for art during his studies and the painter, designer and visionary has lost none of his fascination until today.
I was fascinated by the passionate painting style of Henri de Toulouse-Lautrec, the surreal compositions by René Magritte and the pop art paintings by Roy Lichtenstein.
What I do as a designer can be found under DESIGNWORK.
Quelle Textlinks: wikipedia